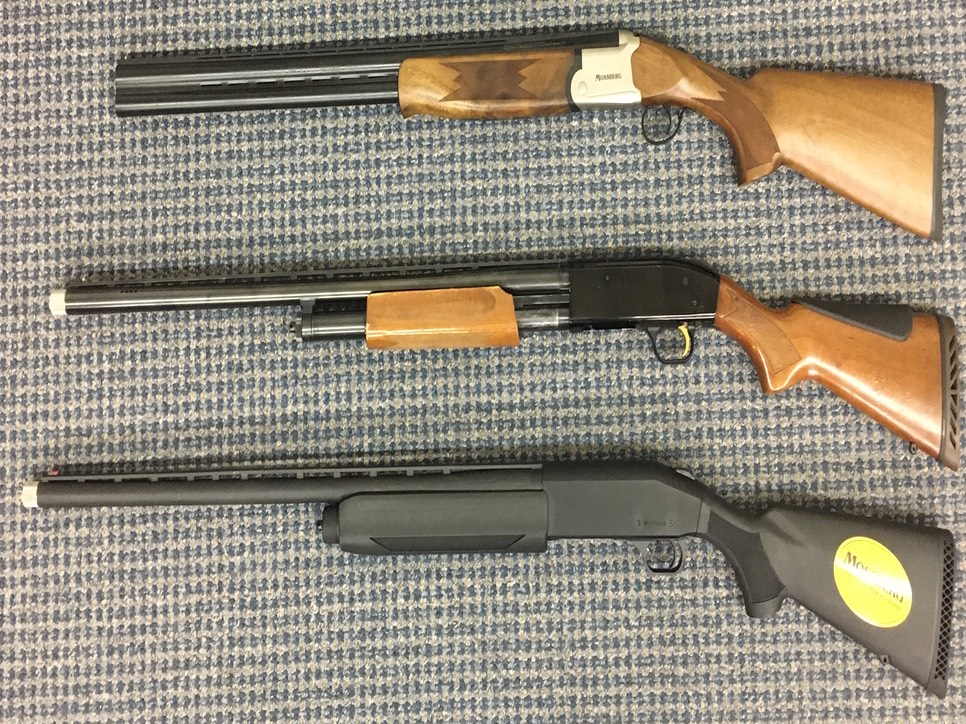 Short Description: This course teaches the knowledge, skills and attitude essential to organizing, promoting and teaching NRA's Basic Shotgun Shooting Course.
More Details: Prerequisite: Possession of basic firearm safety and shooting skills is a perquisite for certification as an NRA instructor. Prior to the instructor training, candidates complete a pre-course questionnaire and demonstrate their firearm background in pre-course assessment exercises.  


Description: Course is presented in two parts: basic instructor training, and discipline specific instructor training. Students demonstrate organizational and teaching skills via participation in practical exercises during the course, and complete an instructor certification examination. Students will receive the NRA Trainer's Guide, NRA Shotgun Instructor Candidate Packet, and NRA Basic Shotgun Shooting course student packet.
Prerequisites:
1 - Must complete the NRA Basic Shotgun Course.
2 - The NRA pre-course qualification will have a minimum passing score of 80 out of a possible 100.
3 - Complete NRA Basic Instructor Training (BIT) or have taken within the past two (2) years. Contact us if needed.
4 - Complete instructor candidate questionnaire.
Cost:

$425.00 per participant
Deposit $200.00 (you will be emailed an on-line payable invoice via Square)
Upcoming classes (click date to register):
NOTE: Contact us for additional dates or to request alternate dates
Class location:
We have our own full time classroom located in the Historic Hat Factory, 1000 North Division Street, Suite 2i, Peekskill, NY 10566-1830
Office, Mobile & Classroom: 914-455-4099
Email: pistolclass@donahoo-consulting.com 
Important Information:

All students must register for class in advance.
NOTE: Pursuant to current NYS Law, unless you are an active or retired police officer or peace officer your firearms must be carried into the building unloaded and locked in a case. You are welcome to have in my classroom, I have no control over the rest of the building.

Instructor classes All deposits and payments are non-refundable. They however, may be applied to another class within 12 months of the date payment, providing seven (7) day cancellation notice is made prior to the start of the scheduled class. Classes may be rescheduled one (1) time within the 12 month period.
No live ammunition is permitted in the classroom during any class. We provide secure storage for all ammunition and lawfully carried or possessed firearms during classes 
A valid current government issued photo identification is required. For persons in possession of pistols, valid New York Pistol License or other authority to possess, must be presented at the beginning of class.
All major credit cards are accepted for payments. No personal checks are accepted.
Students are responsible to pay NRA Instructor Rating Fees.
Instructor Candidate (IC) BRINGS:
* Valid government issued photo identification (i.e., driver license, passport, etc.)
* Printed hybred powerpoint-lessson plans and appendicies for the NRA Basic Shotgun and NRA FIRST Steps Shotgun classes (links to download and printing instructions provided after registering)
* NRA Basic Shotgun Class Book
* Favorite shotgun (any action type) - NEVER LEAVE FIREARMS IN VEHICLES - Safe storage provided for lawfully carried loaded firearms in classroom
* Minimum of 2 loading devices (magazines) if applicable
* Minimum of 150 rounds of factory ammunition (no-reloads) in gauge of firearm suitable for range use - LIVE AMMUNITION NOT PERMITTED IN CLASSROOM - Safe storage provided for lawfully carried loaded firearms in classroom
* 12 inert (dummy) rounds for shotgun (i.e., snap caps) - MUST BE READILY IDENTIFIABLE AS NOT REAL
* Eye and hearing protection
* Optional range / baseball hat
* Optional sunscreen / insect repellant
* Dress appropriately for an outdoor range and weather conditions
* Bring lunch, snacks and hydration - we work throughout the day(s)
Range fees included in class.
NRA class materials provided.
ITAR (International Traffic In Arms Regulations) is a set of Federal regulations generated by the State Department stemming from the Arms Export Control Act of 1976.
ITAR restricts training given to non-US Persons.
US Persons are US citizens (both natural-born, and naturalized immigrants) and Permanent Resident Aliens    

Current NRA policy is:
 "Under federal law, certain non-U.S. citizens are prohibited from participating in this course. Only non-U.S. citizens who are: (1) lawful permanent residents (e.g., green card holders), (2) refugees, or (3) individuals who have been granted asylum may participate in this course."
By paying for and/or attending classes participants agree that they have read and meet the conditions listed in the DONAHOO-CONSULTING, LLC® "Terms of Attendance & Safety Warnings." 
https://www.donahoo-consulting.com/terms-of-attendance--safety.html 
Extraordinary steps are being taken to ensure the classroom is deep cleaned and sanitized between classes. Information can be found at: https://www.donahoo-consulting.com/covid-19-protection.html