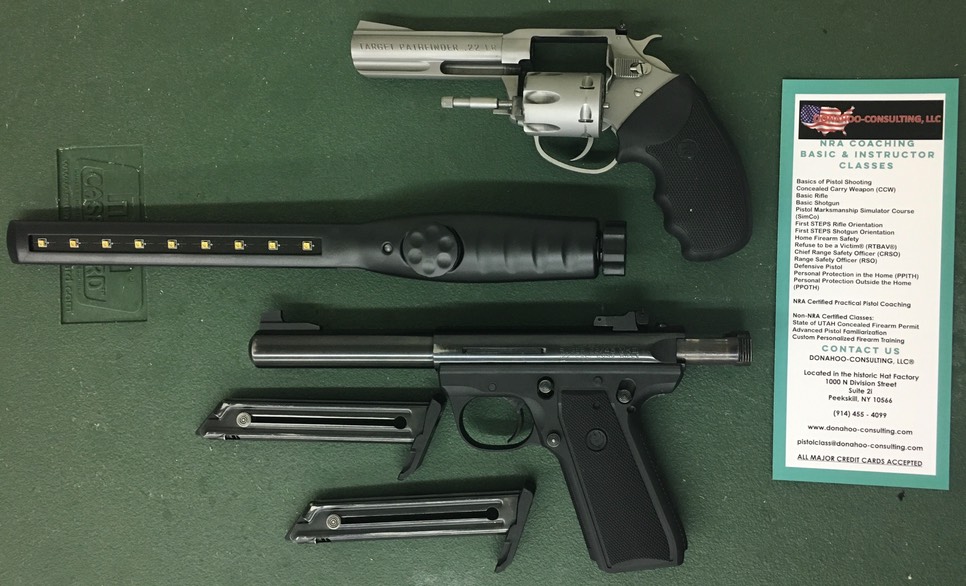 Name: NRA Basics of Pistol Shooting - Instructor Led Training (ILT)
Short Description: The NRA Basics of Pistol Shooting is intended for all individuals regardless of previous shooting experience or NRA-affiliation and is available for delivery in two ways. One option is the traditional, instructor-led course where you will receive direct instruction from an NRA-certified instructor from beginning to end. The other option has two components: a self-study or "eLearning module" which is completed online in your own timeframe and a hands-on practical portion conducted in a classroom and shooting range with an Instructor.
More Details: Instructor Led Only Training: The Instructor Led Only takes place in a traditional classroom and range environment. This course may be completed in a single day format or over several days with smaller blocks of instruction. To sign up for the Instructor Led Only click on the "Find A Course" icon. This opens the Course Listing page where you will select the Basics of Pistol Shooting-Instructor Led and scroll to the bottom of the page to enter details that refine the search criteria to generate a list of available courses. After selecting a course you will enter your information in the registration fields. The course Instructor will contact you shortly thereafter. 
Course topics include: gun safety rules, proper operation of revolvers and semi-automatic pistols, ammunition knowledge and selection, pistol selection and storage, shooting fundamentals, pistol inspection and maintenance, marksmanship, and shooting range safety. Additionally, students will complete live fire training and a nationally standardized shooting qualification while on the range with an NRA Certified Instructor. Students will receive the NRA Guide: Basics of Pistol Shooting handbook, take a Basics of Pistol Shooting Student Examination and receive a course completion certificate bearing the signature of the NRA Secretary and your NRA Certified Instructor.
Pistol licensing:

This course is accepted for permit processes of Connecticut, Florida, Virginia and other states.
Discounted NRA Basics of Pistol Shooting & State of UTAH Concealed Firearm Permit Class:
Take the NRA Basics of Pistol Shooting and State of UTAH Concealed Firearm Permit Class together and receive a $50.00 package discount!
All students take the NRA Pistol Marksmanship Simulator Course (SimCo) during this class for FREE!
Cost:

$250.00 per participant
Deposit $100.00 (you will be emailed an on-line payable invoice via Square)
Contact us for class dates or to schedule classes
Class location:
We have our own full time classroom located in the Historic Hat Factory, 1000 North Division Street, Suite 2i, Peekskill, NY 10566-1830
Office, Mobile & Classroom: 914-455-4099
Email: pistolclass@donahoo-consulting.com 
Important Information:

All students must register for class in advance.
NOTE: Pursuant to current NYS Law, unless you are an active or retired police officer or peace officer your firearms must be carried into the building unloaded and locked in a case. You are welcome to have in my classroom, I have no control over the rest of the building.

All deposits and payments are non-refundable. They however, may be applied to another class within 12 months of the date payment, providing forty-eight (48) hour cancellation notice is made prior to the start of the scheduled class. Classes may be rescheduled one (1) time within the 12 month period.
No live ammunition is permitted in the classroom during any class. We provide secure storage for all ammunition and lawfully carried or possessed firearms during classes 
A valid current government issued photo identification is required. For persons in possession of pistols, valid New York Pistol License or other authority to possess, must be presented at the beginning of class.
All major credit cards are accepted for payments. No personal checks are accepted.
Pistol use, ammunition, class materials and range fees included in class.
Free license application photographs.
Persons who can legally possess a pistol in NY shoot nearby in Westchester County. Persons without NY licenses shoot legally in Monroe, CT.
ITAR (International Traffic In Arms Regulations) is a set of Federal regulations generated by the State Department stemming from the Arms Export Control Act of 1976.
ITAR restricts training given to non-US Persons.
US Persons are US citizens (both natural-born, and naturalized immigrants) and Permanent Resident Aliens    

Current NRA policy is:
 "Under federal law, certain non-U.S. citizens are prohibited from participating in this course. Only non-U.S. citizens who are: (1) lawful permanent residents (e.g., green card holders), (2) refugees, or (3) individuals who have been granted asylum may participate in this course."
By paying for and/or attending classes participants agree that they have read and meet the conditions listed in the DONAHOO-CONSULTING, LLC® "Terms of Attendance & Safety Warnings." 
https://www.donahoo-consulting.com/terms-of-attendance--safety.html 
Extraordinary steps are being taken to ensure the classroom is deep cleaned and sanitized between classes. Information can be found at: https://www.donahoo-consulting.com/covid-19-protection.html